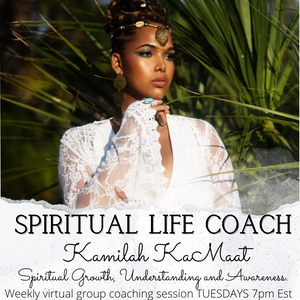 Virtual Group Coaching (Month to Month) - Next One Starts October 10th
My coaching sessions are one of my most favorite offerings. I have the opportunity of just pouring into a vessel where the filling is needed. We can discuss any topic. Any question can be asked and with sound mind, reasoning and listening there's always an answer that surfaces. I am motivated to do this after hosting Sister circles for 8 years for once a month, offering one on ones and private group circles I wanted to make an offering to my online community. In this space we can create virtual community in confidentiality. Digging deep to find the clarity and confirmation to unleash and unlock whatever mental, emotional, physical or spiritual restraints that are in the way. The purpose of the sessions are to inspire growth, activate wisdom and motivate change (transformation). This is an investment in yourself and the future of everything you are co-creating. In this exchange I get to offer you what I have learned over the past 10 Years of my own personal Self Discovery to assist you in your own. 
Next session begins 04/11 - 5/2
MAY - 5/9 - 5/30 
JUNE - 6/6 - 6/27
JULY 7/4 - 7/25
AUGUST - 8/1 - 8/22
SEPTEMBER - 9/5 - 9/25
OCTOBER - 10/3 - 10/24
NOVEMBER - 11/7 - 11/28
DECEMBER - 12/5 - 12/26 
Your investment covers one virtual group session per week,  for 2-4hours (we flow with spirit) Total 4 weeks. 
Investment is non refundable, non transferable. 
If you sign up late you will start the following month's session.
We have a WhatsApp Group that is created for every month session. 


We have our weekly Virtual Call on Google Meet. 
We wear white every call.
Have a journal present for accountability notes, quotes and reminders.
Come with an open mind and open heart ready to be transparent and vulnerable for deepening. 
Sessions are recorded and are shared with the group just in case someone missed a session. 
If you have questions email sankofahousesavannah@gmail.com